80's Flashback - Tech Toys
If you are a long term reader of my blog you will know that Flashback posts are one of my favourites. I used to join in with a link up every week sharing a photo on a theme and the story that went with it. I even hosted the linky for a while!
Earlier this year I started to write a post with an 80s theme and when I fell into the Pinterest rabbit hole of childhood memories whilst looking for images to accompany my posts I found there were so many things I'd forgotten about and wanted to share that I had to break it down into several posts.
I blogged about my
80's toys
and the
Sindy and Barbie dolls
of my childhood and board games I had or regularly played, but just like the kids of today I was always won over by a bit of tech.
It wasn't as impressive as today's tech that kids take for granted now, like ipads and Xboxes but it was awesome to us.
I played for hours with the following toys but I don't think they were as addictive as the tech of today, I'm pretty sure parents back then didn't fuss and worry and attempt to make excuses for why the kids were using them so much. I happily try to get my boys interested in playing with something with batteries in an attempt to lure them away from youtube but they are never fooled.
Here are some of my 80s favourites...
Speak and Spell
I remember this well, it didn't do much really but I enjoyed playing Guess the Word (like Hangman without the hanging man!) and the spelling test - yeah I was such a cool kid!
Amaze a tron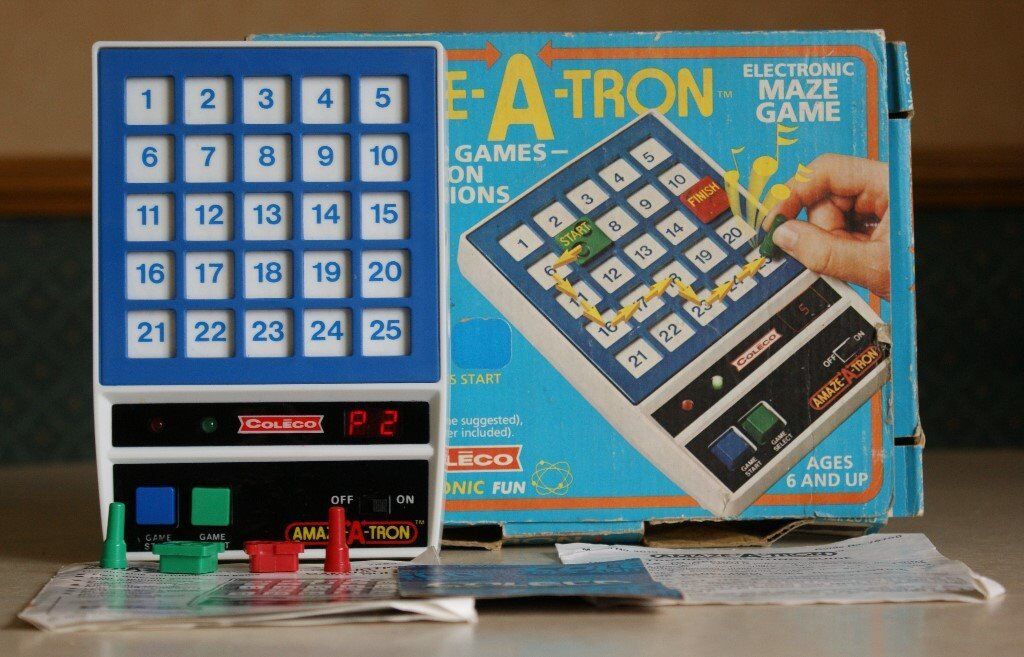 This was just Amaz-ing (sorry!) I loved this so much and I'm sure I played with it for years. I've just found a demo on youtube - Oh the memories, oh how much those noises must have driven my parents mad.
Apparently it was a 70s toy, which now makes me wonder if it was actually mine or if I just stole it off my Dad, as I was only 2 years old at the end of the 70s. I know he used to play it too so maybe I did!
It was one of the earliest handheld computer games and as you could probably guess involved getting from one point to another via the 'maze' There were several different games on there but all pretty much the same thing.
Dingbot
This little guy was so cool! Well, until you realised that he didn't really do that much. He was basically a 'bump and go' toy but he was cute and a robot, and I'd really wanted one for ages. He wouldn't run on carpet which was annoying, so I used to put him on the dining table and then walk around the edge holding something so he would hit that and turn around rather than falling on the floor.
But it was much cooler than the dogs that flipped over and barked.
Here he is in action..
(on watching this now, I was filled with nostalgia at the sound it made, until I realised he sounds just like one of the dogs that flipped over!)
Melody Madness
Another piece of awesomeness was Melody Madness, a music game with light up pads. Considering how much I enjoyed this looking back I can't remember a great deal about it apart from the cool noises it made.
My Mum would certainly not agree with that however as this toy caused a commotion one evening after I had gone to bed. She heard a strange low noise coming from what she assumed was the TV, my Dad was at work and she was a bit worried that there was something wrong. When the noise continued even after unplugging everything she ended up getting a second opinion from the neighbour! They eventually worked out that it was my Melody Madness which had been left on and the batteries were dying!
Lights Alive
I think this was a Christmas present one year, look how cool this was...
I'd be interested to know how long I owned this, and how much I actually played with it. I have very fond memories of it but watching that advert now just makes me wonder how long that novelty could have lasted!
Walkman
Who didn't love their Walkman, I'm not sure if mine was a Sony but I did have a few over the years, before ditching them for a Discman in the 90s, which was rubbish.
I also had a cassette player which I used to spend hours taping the Top 40 with, always hovering with your finger over the pause button trying to stop it before the talking!
Last but not least, in fact this should probably get its own post, my favourite 'toy' of all time,
Commodore 64
Look at that beautiful beige box...
I had hours of fun with this, I had a huge collection of games that I'd collected over the years and many fond memories. We eventually sold the C64 for an Amiga, which although more up to date never impressed me as much, despite the new and modern floppy disks that it took. Nothing grabbed me again until my first desktop PC years later.
One more mention, I didn't have one but spent many a time with my Dad watching them on demo in the toy shop, maybe he wanted to see if I'd eventually put one on my Christmas list!
Big Trak
For more fab flashbacks you can follow me on
Pinterest
(most of the images are not mine and the original source is usually unknown so feel free to let me know if it's yours and you would like credit!)