The Wide Mouthed Frog
Many years ago in our first house on one of our many late night (undoubtedly slightly drunken!) conversations with our housemates and assorted friends, we came to swapping random and probably quite silly jokes - someone mentioned the 'Wide Mouthed Frog' and although most knew the punchline no-one could remember the joke for the life of them. I have no idea why but I remember laughing hysterically at Aaron's delivery of the punchline, despite never the fact I had no idea of the original joke.
It became a standing joke - just the line 'Ooh, you don't see many of those around do you?' and still years on we didn't know the rest of it. ( See, this is what happened without Google, in writing this post I searched and found it
here
)
Moving on to a couple of weeks ago, I saw that
Bloomsbury
have published the book for children!
After all these years, we just HAD to have it!
It was a huge hit with Leo, sat enthralled through the entire book and then rolled around laughing at the end - ok, this may have been due to the fact I could hardly say the line without creasing up myself. When we finished it, I asked him if he liked the new book, he paused for a second and then shouted 'AGAIN' Which I took to mean a sure sign of approval!
In just 24 hours, I've now lost count of the amount of times we've read it. It was the last thing we did before bed yesterday and the first thing he asked for this morning, it's a good job I like the book too!
It's a brilliant book, colourful, witty and the way the frog's mouth closes at the end when he pretends not to be a 'wide mouth frog' is great, I think this is going to be a long running favourite in our house.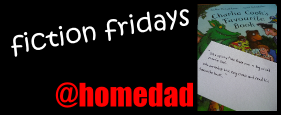 We recieved a copy of 'The Wide Mouthed Frog' for review purposes but our opinions are our own.