You may have noticed a bit less in the way of blogging from me over the last couple of weeks, although this was handily disguised by Christmas the real reason can now be revealed....
Yep..... I'm pregnant!
Regular readers of my blog will possibly guess this wasn't entirely planned (or even vaguely!) but 'Que Sera sera' and all that!
I found out just before Christmas and although I was fairly sure as I took the test (even though one before had been negative) it was still huge shock to see those two lines staring back at me. People had asked if we planned to have another and my standard response was always 'No, but never say never' Truthfully I'd always wanted two children but finances and living space was never conducive to having a bigger family. The timing could be MUCH better, as Aaron is still looking for work, and we are struggling, and we sold Leo's cot only in November! but as several people have told us, it will all work out in the end...... I admit I have no idea how but we'll have to figure that one out!
It's still early days and I did wonder if I should wait before announcing so publicly but blogging is such a part of my life I know I'd want to write whatever happened so I saw no reason not to. I am 7 weeks at the moment, which makes me due at the end of August...... that's going to be fun in 50 degree heat!
I've had 2 scans, one before Christmas at a private clinic as I had no idea of my dates and was concerned I could be anything up to 12 weeks already, and today I went for my first appointment at the General hospital where they scanned again and gave me my dates. So although many people in the UK wait until 12 weeks that's usually the first time they have a scan.
It will be interesting to see the differences in giving birth in Cyprus compared to the UK. I've
heard
lots of things......they can be very quick to give c-sections, they don't do much in the way of pain relief, and they are not hugely pro-breast feeding among others but that's only things I've heard on the grapevine so I won't be making any sweeping generalisations and I'll let you know of my experiences as I go!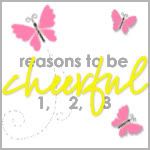 I'm linking this to Michelle's Reasons to be cheerful, it's the 1st year anniversary of the linky this week and I thought as reasons go it's quite a good one!