The Christmas List and the Argos Catalogue
As a child the most important part of the run up to Christmas was the writing of The List. It required a great deal of thought especially as I got older and realised it was not so much of a shopping list and rather a few ideas for Santa and Mum and Dad to select from.
The Argos catalogue played a large part in the compiling of the list, I would spend hours pouring over the 'book of dreams' and one year my Mum gave me an old copy to cut out pictures to make a Christmas collage of things that I liked (in what I now realise was a great way of passing the time and keeping me quiet!) One year I presented my carefully constructed list to Mum - an list filling a whole A4 page, I'd basically copied out the book! I think I'd listed every annual in there along with more toys than I could have fitted into my bedroom! With amusement Mum asked me what my favourite things were, and if I could maybe narrow it down a little!
Then of course there were the adverts, amazing toys that you just HAD to have. They all looked so good and we didn't realised that they were never the same in real life.
Care Bears, My Little Pony, Popples, Sindy and Barbie, we fell for all the marketing and I wished for it all!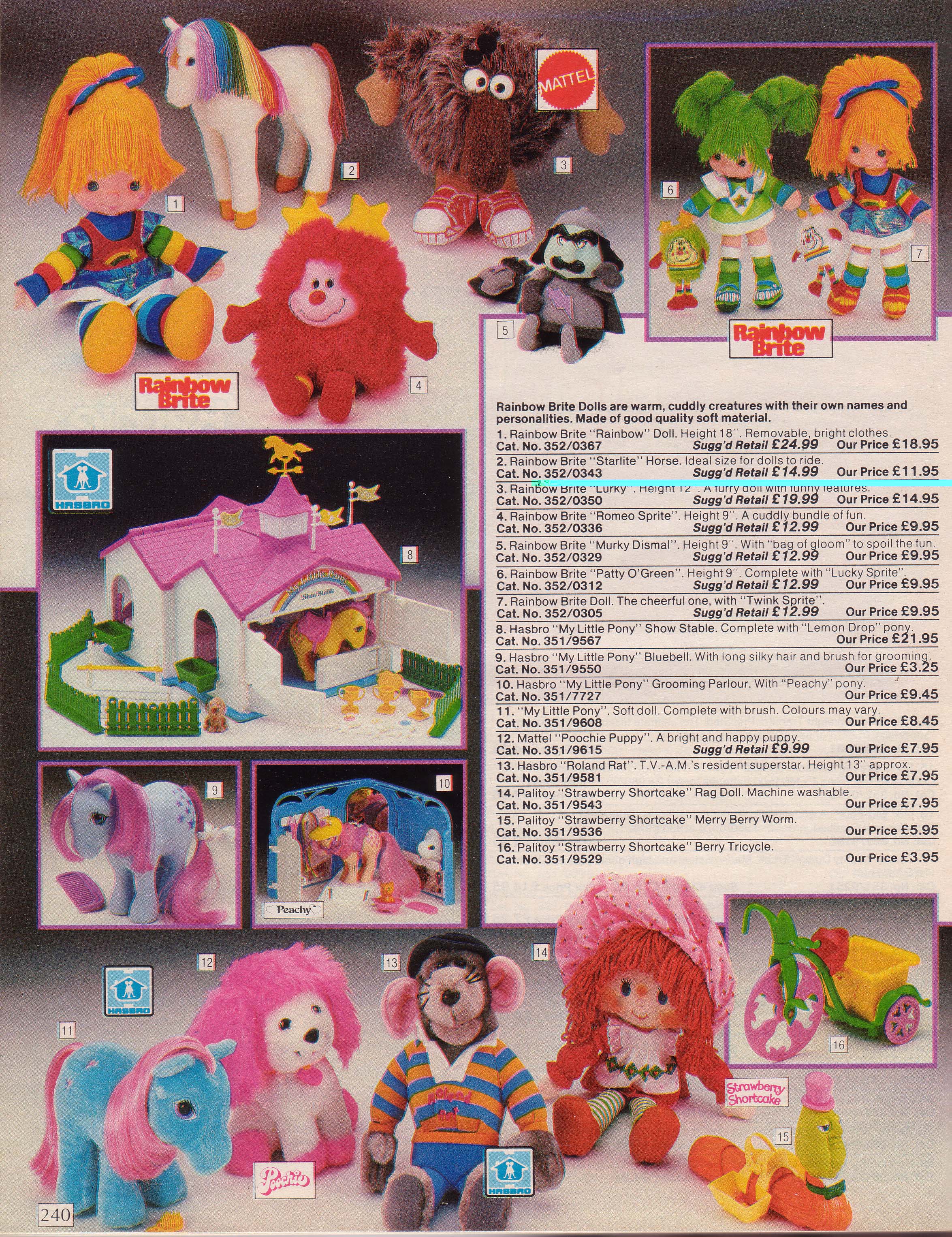 I recently found some
vintage Argos catalogue pages online,
they are an amazing snapshot of time gone by, the products, the pictures and fashions seem hard to believe now. I was also shocked at the prices, I would have assumed the toys would have been much cheaper in compassion to today's prices.
You can actually view the entire 1985 catalogue online -
Vintage Argos Catalogue
It's a little different for my boys, they don't see English adverts and we don't have an Argos book. They don't go to the shops and they are not bombarded with advertising. They have only this year been to a toy shop (one which tends to mainly be full of over priced plastic tat rather than brands we know and love) so they don't really know what there is to want!
This is generally refreshing, and it means that they are not continually demanding expensive toys but it does make buying presents more of a problem! I spent hours online last night looking for inspiration, and usually being thwarted by stupidly high postage charges to Cyprus, or just them refusing to deliver at all, but in the end I eventually solved the problem with one big Amazon order (total postage £18 which was a result) and a couple of ebay bargains, so in fact I think I may still be better off - no need to walk the high street and be tempted by Argos, Toys R Us etc. Now I all have to do is maybe make a few subtle suggestions when they write their letters to Santa!
As for me, of course I don't write a list anymore, I did for many years even after leaving home, I've always been a big kid at Christmas time and loved the surprise so I always wrote several things down for my Mum to choose from, ensuring I would still have a surprise. Now I struggle to come up with even a few suggestions much to Mum's frustration!