We all love cake!
Last year
I told you all about my first Halloween party
it was held by my friend Sam and it was great fun. Tomorrow we are going to do it all again so in a tradition we seem to have created for ourselves Aaron and I had a cake to make!
Last year we made a 'Pumpkin cake' and so we've been debating what we could do this year. Aaron suggested a skull but I thought we shouldn't peak too early so we went with his second idea a Ghost cake.
It was a joint family effort as Leo 'helped' me bake the cake and then as usual I handed the decorating over to the arty one.
Leo and I made a simple Victoria sponge mixture but as we needed a lot we tripled the standard recipe.
300g castor sugar
300g butter
6 eggs
300g self raising flour
I usually cream the butter and sugar first, adding the egg then the flour gradually but Leo didn't agree with that method and chucked it all in before I could intervene, including the eggs without cracking them! I retrieved the whole eggs and then I blitzed it all with the whisk.
I cooked 3 cakes, one big one and two smaller ones as that the pans I have, it wouldn't matter what you cook it in as the cake gets broken up anyway.
Once cooled we broke the cake into small pieces and mushed it together with butter cream (that is a technical term when cooking with a toddler). We modelled it into a 'ghost shape'
(Butter cream - 280g butter, 560g icing sugar 4tbsp milk)
Using ready to roll icing Aaron then took over (my patience with rolling that stuff does not last long) and draped it over the cake.
It was quite tricky rolling the icing so it was big enough as it made it quite thin, several times it broke as we tried to get it on the cake. Eventually we rolled it on cling film which made it a lot easier to transfer. Using a small paintbrush and some black food colouring he then painted on the eyes and the mouth.
Now all we have to do is work out how we are going to transport it to the party tomorrow in one piece!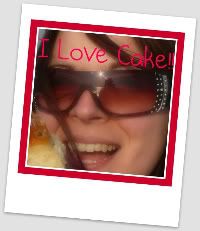 I'm not the only one who loves cake though -