Boys will be boys?
Following on from our recent
playdough playtime
I decided to
create something else to blog about
be a good mother and arrange a fun toddler activity.
At a party last year the kids were provided with
cornflour goo
to play with, Leo was a bit young to be interested and was too busy colouring (one of his favourite things) to want to try it, but I thought now he'd have great fun with it.
Looking slightly bemused!
It's really easy to make, just cornflour, water and a drop of food colouring. What you end up with is a strange gloopy thing that if you touch quickly feels like it's solid but if you stir or run your hands through slowly becomes a liquid - weird huh!
I showed him what to do and he laughed as I plunged my hand in and let it run through my fingers, (whilst trying to take a photo and not drop my camera in it!) He didn't need much encouragement to get his hands in and laughed for a short while until he realised his hands were now dirty...... I forgot, I have the only boy in the world who doesn't like 'dirty'
Despite my best efforts to persuade him that it was ok and he could play and then we'd wash up afterwards he then didn't want to know! He did however enjoy washing his hands at the sink and then proceeded to spend 15 minutes with a cloth washing the floor, his future wife will be so pleased!
I'm not sure how his aversion to dirt appeared, we did
baby-led weaning
for goodness sake, it didn't bother him while he was mushing food into his head!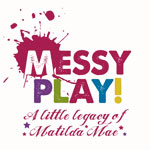 Update - This post was originally written 2 years ago, and I'm quite ashamed to say I've not done many messy things since. Inspired by Jennie though I'm going to rectify that so look out for some new messy play posts coming soon!