Dear Car,
I am not impressed, at all. It may be Christmas and a time for presents but you are a car and traditionally you do not get presents. Even if you did you'd be lucky to get a hanging air freshener or if you'd been a really good car maybe a set of new mats or something. But you haven't been a good car, you have had a slow puncture and no air-con during the hottest summer months so I am not impressed that you are demanding anything at all let alone a whole new bloody engine!!!!!!!
Yours,
a very angry (and skint) pedestrian.
Dear UK friends,
You should be receiving Christmas cards very soon, did you remember us? Did you remember the last posting date for overseas? Hmmm, are we going to be getting cards in January again? At least that means you remember us eventually then, either that or you get mine and think 'bugger'!
Thinking of you all,
your slightly further away but still on the end of a phone / laptop friends in Cyprus
xxxx
Dear Santa,
We've been very good this year, any chance we could have a new engine for our car. Or if you're feeling particularly generous maybe even a whole new one. We'll leave you out a drink, or even a bottle - take your pick
, we have quite a lot at the moment
Yours hopefully,
Emma & AJ
xxx
Dear Money,
I miss you, looking forward to hopefully seeing a bit more of you in the new year.
Emma
xx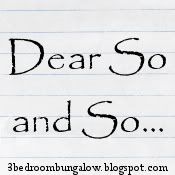 Click the image above to see all the other Dear so and So letters.